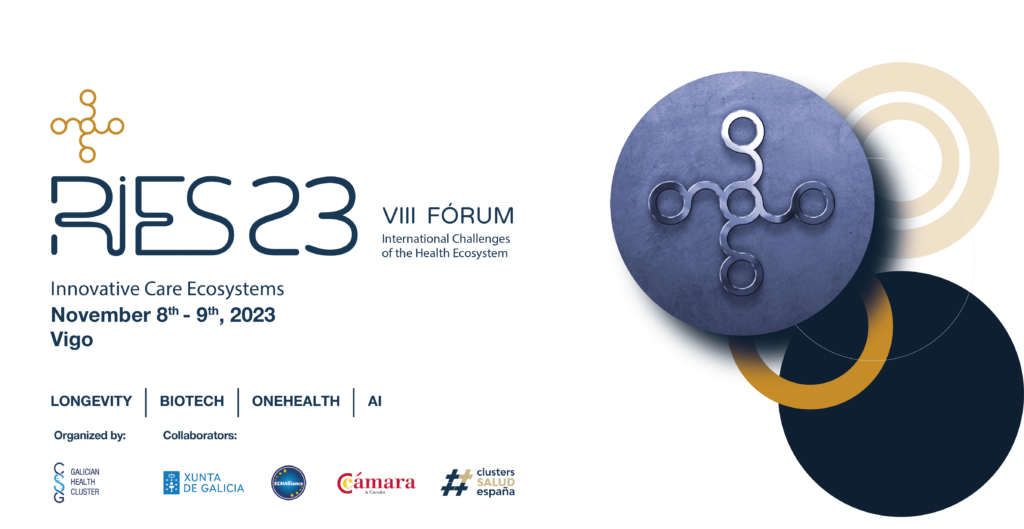 Forum RIES is the international reference forum at a national and international level to address the challenges and opportunities within the care ecosystem. Led by the Galician Health Cluster, CSG, it has been created as a meeting forum between the main agents of the public and private health and care sectors at a European level in collaboration with our strategic partners of the #CSG_Community.
In this eighth edition, that will be held in the city of Vigo, the theme of the VIII Forum RIES 2023 (#RIES23) «Innovative care ecosystems» encompasses one of our main purposes: to be a professional platform for public-private collaboration between the different agents of the sector that promote innovative collaborative projects within our ecosystem of innovation in health and care.
#RIES23 focuses on highlighting the essential role played by health and care innovation ecosystems and their key opinion leaders, a core value of our #CSG_Community. In this eighth edition of the RIES Forum, we aspire to give voice, listen and get to know all the members of innovative ecosystems while deepening our knowledge around four main topics of interest: Longevity, Biotech, OneHealth and Artificial Intelligence.
This year we want to start with the #RIES_Twinning as recognition of the collaborative relationships extended over time between the Galician Health Cluster, CSG and an outstanding international collaborator market. In this line CSG, in collaboration with the Chamber of Commerce of A Coruña, have established a collaboration for a number of actions of exchange between Scotland and Galicia. 
One of the last actions for 2023 is the visit to the CSG ecosystem with travel costs, accommodation for up to 5 nights, and entrance fees to the VIII Forum RIES 2023 covered for up to five selected SME's*. Prior pre-registration of the candidates must be completed by September 7th at 17:00 CET. CSG, together with the Chamber of Commerce of A Coruña, will be selecting the final five SMEs that will be travelling to Vigo, Galicia by September 15th 23:59 CET, and will organise travel as appropriate after this deadline.
*Please be aware that no meals, unless otherwise stated, can be included.
The SMEs can choose from two different agendas:
AGENDA A: Visit to the #Community_CSG ecosystem + #RIES23 (Nov 6th – Nov10th)
– Nov 6th Barcelona/Lleida – 24 hour experience
Care home from GRAN3DAD, a CSG member, together with the project consortium from Senior Eco-Nect. GRAN3DAD visited Scotland in May with the wider delegation. 
– Nov 7th – flight from BCN to Vigo – visit to Silver Ecosystem (together with the project consortium from Senior Eco-Nect)
Atendo Community Housing – Brief tour of the apartment and explanation of: Atendo model, Nuka project at school, Alexa Smart Properties Senior Living.
Visit to COGAMA (Galician Confederation of Elderly Organizations in Vigo) – Explanation of the training project in new technologies and digital skills. Brief explanation of COGAMA and its role in promoting active and healthy aging in the city.
Visit Atendo Senior Living
Ecosystem projects related to sports and inclusive tourism (TBC)
– Nov 8th #RIES23 at Vigo, Galicia
Opening #RIES23

Presentation of Senior

Eco-Nect

(#SEN) results

Presentation of twinning partners, speakers, collaborators and sponsors.

#RIES23 awards and #SEN good practices ceremony

Gala dinner

Afterwork 
– Nov 9th #RIES23 at Vigo, Galicia
Presentation of the day

Keynotes
Round tables
Guided tours to exhibitors
Presentation of innovative projects

Agoras/Workshops

Closure
– Nov 10th at Vigo, Galicia
AGENDA B: Participation in #RIES23 (Nov 8th – Nov 9th)
– Nov 8th #RIES23 at Vigo, Galicia
Opening #RIES23

Presentation of Senior

Eco-Nect

(#SEN) results

Presentation of twinning partners, speakers, collaborators and sponsors.

#RIES23 awards and #SEN good practices ceremony
Gala dinner
Afterwork 
– Nov 9th #RIES23 at Vigo, Galicia
Presentation of the day

Keynotes

Round tables

Guided tours to exhibitors

Presentation of innovative projects

Agoras/Workshops

Closure